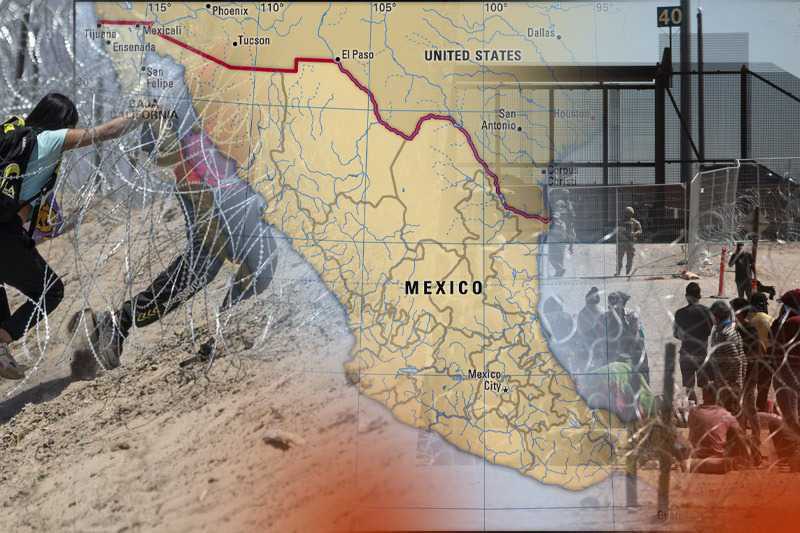 60,000 migrants wait at US border as Title 42 ends. What happens next?
60,000 migrants wait at US border as Title 42 ends. What happens next?
The Joe Biden administration lifted yesterday a controversial immigration policy, which used to block migrants from seeking asylum, citing the COVID-19 pandemic as justification.
Title 42's expiry has brought around 60,000 people to the US-Mexico border, waiting for their turn to enter, according to a report in the BBC. The age-old Title 8 has resumed ruling the borders, allowing migrants to once again apply for legal pathways to enter the US.
But expanded access has introduced greater confusion. Several residents of El Paso in Texas said they had rushed to the border ahead of the change in policy. They told the BBC that they had a number of doubts regarding the new guidelines and were bewildered by rumours.
Jon Uzcategui and Esmaily from Venezuela said other migrants and traffickers had warned them they could be deported if they were seen at the US-Mexico border, convincing them to cross the barricades dividing Mexico and El Paso.
Keep Reading
Uzcategui told BBC that they trusted the warnings and were on their way into the US, but were stopped at a roadblock. The agents reportedly told them that all that they had heard was false. They were allowed to enter once their claim for asylum was heard.
Meanwhile, officials at the US border communities have repeatedly been appealing for assistance to better address the needs of the increasing number of migrants. This comes as makeshift encampments have been filling up fast and social services have reached their limits.
What is likely to happen next?
The lifting of Title 42 coincides with the introduction of a number of initiatives by the Biden administration, intended to persuade migrants to avoid unlawful means and instead pursue the asylum procedure.
These include the development of migrant processing centres in South America and an expansion of the use of CBP One, an application meant to help the people schedule asylum appointments. But the app has repeatedly been criticised for not functioning the way it should.
Title 42 didn't carry legal consequences, allowing migrants to make repeat attempts to cross the border. But the newly-introduced measures will now prohibit anyone caught using illegal means from entering for at least five years and bring legal consequences on repeat attempts.