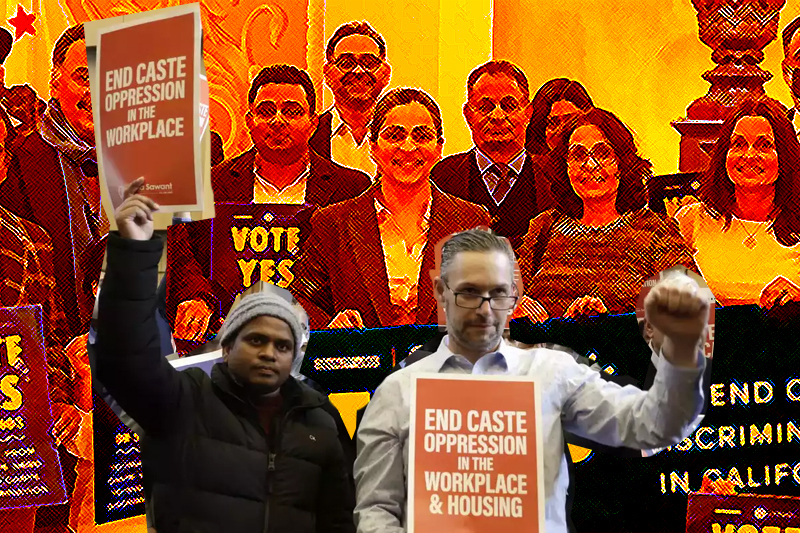 South Asian Communities in California Would Suffer From the Caste Bill
South Asian Communities in California Would Suffer From the Caste Bill
Sen. Aisha Wahab made history as the first Muslim woman elected to public office in California and as one of the first Afghan Americans. Now, with a proposal that would be detrimental to the state's South Asian communities and other communities of color, she is on the verge of exposing our state's repulsive, xenophobic past.
Nativist Californians passed laws targeting different communities of color in the late 1800s and early 1900s. The 1850 Foreign Miners' Tax was one law that charged Mexicans and other immigrants who were born in California a sizable monthly fee for the privilege of mining. Others included the California Alien Land Laws of 1913 and 1920, which targeted Japanese, Chinese, Korean, and Indian immigrant farmers as "aliens ineligible for citizenship" to take away their agricultural land and long-term leases.
Wahab, a Democrat from Hayward, wants to add "caste" as a protected class to California's Civil, Education, and Government Codes as soon as possible in 2023. Caste discrimination is wrong, so the intent of the bill, SB 403, may be good, but the unintended negative effects are severe.
If passed, the bill would restrict South Asians' (and other peoples') rights to equal protection and due process, which would lead to racial profiling because it legislates erroneous claims based on national origin, ethnicity, and ancestry.
Each racial and ethnic group has its internal dynamics, some of which are advantageous and others detrimental. It's possible for negative dynamics to transfer to the workplace or other settings where discrimination is forbidden. However, there are laws in place that provide protection and suitable remedies if this occurs.
Keep Reading
The answer to addressing subtler forms of intracommunity discrimination in a state like California which is becoming more and more diverse is not to broaden the categories that discriminate against specific ethnic groups. The application of existing laws, with their broad, neutral categories, gives everyone protection and imposes the duty to treat everyone equally.
Each person races. Everybody is colored. All people have an age. However, when it comes to "caste," South Asians are the ones who are thought to have one. In contrast to what is implied by Senator Wahab's proposal, South Asians do not necessarily have one and do not identify with it.
Even the Indian government lacks a definition of caste because there isn't one that is widely accepted. I inquired about my stepson's Indian mother-in-law's caste while conducting caste research for the Hinduism chapter of my world religions book. Her response? Christian.
Stereotypes about caste are untrue and shouldn't be used to discriminate against South Asian dissenters. Despite this, the senator's bill defines "caste" incorrectly, designating some castes as the "oppressed" and those who are not as such as the "oppressors." Even the definition suggests that casteism may be demonstrated by a spouse's family history. Therefore, if one is South Asian, personal information about their spouse may be relevant even though it would be irrelevant for anyone else in a work-related discrimination investigation.
Although existing laws already protect against discrimination based on birthplace, descent, culture, or accent — all things that can apply to caste, clan, kin, tribe, or any of the many ways people identify — without singling out particular ethnic groups for scrutiny — Wahab's bill creates a discriminatory policy that specifically targets South Asians (briefly referencing other communities of color).
What kind of history do you want to write, Wahab and other California lawmakers, I ask you on behalf of your constituents? Would you prefer a state that repeats our darkest chapter or one that treats all Californians with respect and dignity, no matter who they are or where they are from?