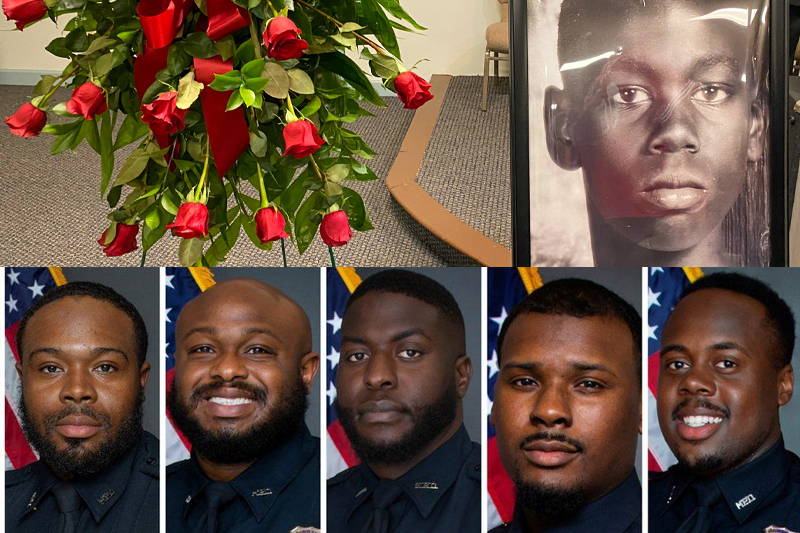 5 US police officers charged with murder over brutal beating of Black man
5 US police officers charged with murder over brutal beating of Black man
Five former Memphis police officers – Tadarrius Bean, Demetrius Haley, Desmond Mills Jr, Emmitt Martin III, and Justin Smith – have been charged with second-degree murder over the fatal beating of a black man in the eastern state of Tennessee following a traffic stop.
29-year-old Tyre Nichols, who was Black, was stopped on 7 January for alleged reckless driving. After a chase ensued, according to family lawyers Ben Crump and Antonio Romanucci, "police brutalised him to the point of being unrecognisable." Nichols was transported to the hospital in critical condition, authorities said, where he died from his injuries on 10 January.
Keep Reading
The officers, who are all Black, were fired earlier this month after an investigation found them to be "directly responsible for the physical abuse of Nichols". They also face charges of aggravated assault, aggravated kidnapping, official misconduct, and official oppression.
Video of the fatal police encounter is expected to be released publicly after 6 pm Friday, Shelby County District Attorney Steve Mulroy announced Thursday. In a YouTube video released late Wednesday, Cerelyn Davis, Memphis Police Department's first black female chief, condemned the officers' actions and called for peaceful protests when the clip is made public.
Police nationwide have been subjected to heightened scrutiny for how they treat Black people, particularly since George Floyd, an unarmed African American man, was murdered in Minneapolis in 2020 during an arrest by white officer Derek Chauvin. Videos of the incident, which showed Chauvin kneeling on Floyd's neck for more than nine minutes, according to prosecutors, triggered demonstrations across the country and around the world over police brutality and racism in law enforcement.