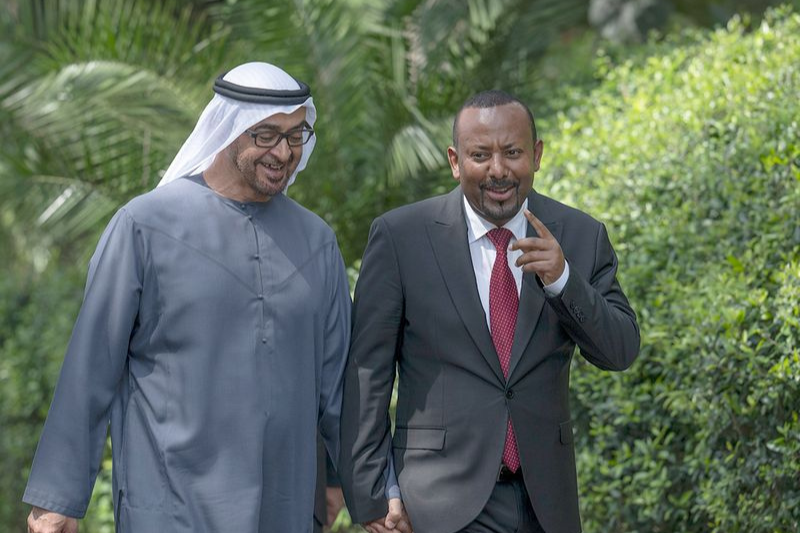 uae president in ethiopia as trade and investment soar
UAE president in Ethiopia as trade and investment soar
UAE President Sheikh Mohamed bin Zayed Al Nahyan arrived in Ethiopia on Friday on an official visit aimed at improving ties and enhancing trade and investment between the two countries. He was greeted by Ethiopian Prime Minister Dr Abiy Ahmed after touching down in Addis Ababa.
Remarkable Increase In Non-oil Trade Over The Past Decade
The two leaders held discussions on various aspects of bilateral ties, in addition to issues of mutual interest in the broader region as well as internationally. It comes as the UAE and Ethiopia record a remarkable increase in their non-oil trade over the past decade, reaching 180%.
The total value of their non-oil trade between 2013 and 2022 surpassed AED34 billion, with last year alone recording AED5.113 billion, more than double the figure in 2013. UAE's non-oil exports to Ethiopia were worth AED773 million, with imports totalling AED2.307 billion.
Ethiopia's major imports from the Emirates included mineral oils, pre-fabricated buildings, pulses, raw gold, and iron and steel structures and parts. UAE's re-exports included automobiles, medical vaccines, communication devices and equipment, and jewellery and ornaments.
Raw gold, coffee and meat were the top three goods the UAE imported from Ethiopia in the previous year. While raw gold imports were worth over AED2 billion, coffee imports amounted to AED43 million and meat, AED207 million.
Keep Reading
Win-Win Situation For The Two countries With Endless Possibilities
Highlighting Ethiopia's importance as a major market for the Emirates' non-oil trade, Dr Thani bin Ahmed Al Zeyoudi, UAE's Minister of State for Foreign Trade, said the two countries have strong trade and investment relations, with the UAE investing AED10.65 billion in Ethiopia.
While Ethiopia can act as a key entry point for Emirati goods to East Africa and other countries in the continent, the UAE can help Ethiopian exports reach new markets through its global network of trade partners. It's a win-win situation for the two countries with endless possibilities.
Sheikh Mohamed's visit also involved the signing of several memoranda and agreements by both sides, including an MoU in the Field of Industry and Advanced Technologies, and one between Abu Dhabi Ports and Ethiopia Investment Holdings.