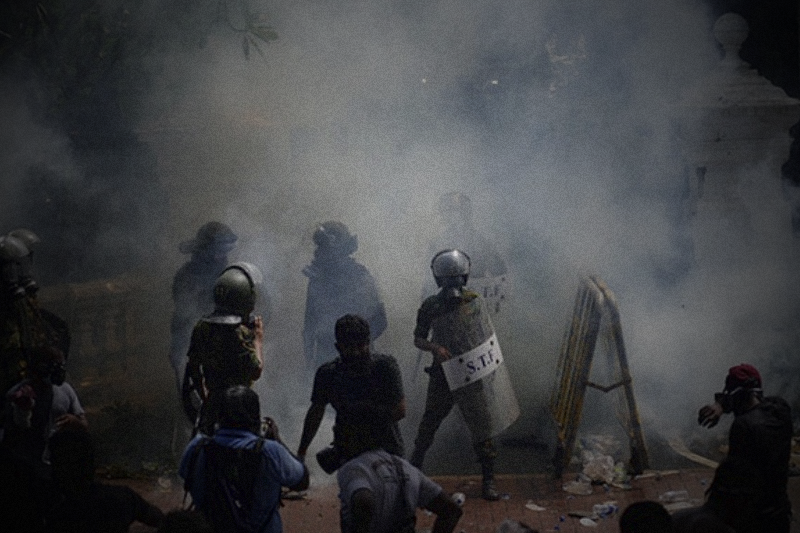 sri lanka is burning and its war hero has turned to fugitive what now
Sri Lanka is burning and its "war hero" has turned to fugitive: What now?
Sri Lanka is burning. And the scenario is no less than a Hollywood drama – the pictures coming in look straight from imagination. The protesters having stormed into the President's house and other federal buildings, are swimming in the pool while some are seen wrestling on president's bed. The public is angry with the regime and the anger stems to years long corruption that has now led to economic crisis in the country.
The outrage of Sri Lankan people is aimed straight at the President Gotabaya Rajapaksa. The economy is shattered, leaving country under heavy foreign debt and now begging for a bailout from IMF (International Monetary Fund). Rajapaksa has fled the country to Maldives, and now reportedly to Singapore fearing a protest from local people. He left the country hours before he was supposed to resign, a move to secure his immune status. The country has now been put under curfew with Prime Minister ordering military to do whatever it takes to restore law and order in country. This may be a precursor to bigger war and chaos.
Gotabaya Rajapaksa faces war crime allegations with chares of being responsible for economic and political disorder in Sri Lanka that left the country of about 22 million people bankrupt.
But the now 'fugitive' president was once hailed as "a war hero" – nothing less than a mythical king leader who had freed the country of separatists in a bloody civil war. But his departure from Sri Lanka has changed the way history would remember him. "The sight of Gotabaya Rajapaksa fleeing Sri Lanka on an air force plane represents (the downfall) of this family," said Ganeshan Wignaraja, senior research associate at the British think tank, ODI Global.
Also Read: Sri Lanka's economic crisis: Rajapaksa has fled the country
The big question arises, what now for Sri Lanka? There is no doubt that a democratically elected leadership is required as the first step to restore some order and people's confidence in the government. The quickest step would be election of a transition president and government by the opposition. The process thereafter has to be treaded carefully. The fact that the downfall of Rajapaksa, as called out by the public, was largely a bloodless process, is unique given the location and history of violent civil war experienced by the people of Sri Lanka. The days ahead are unclear for the country and its people, but hopefully it should be an uphill fight from here.