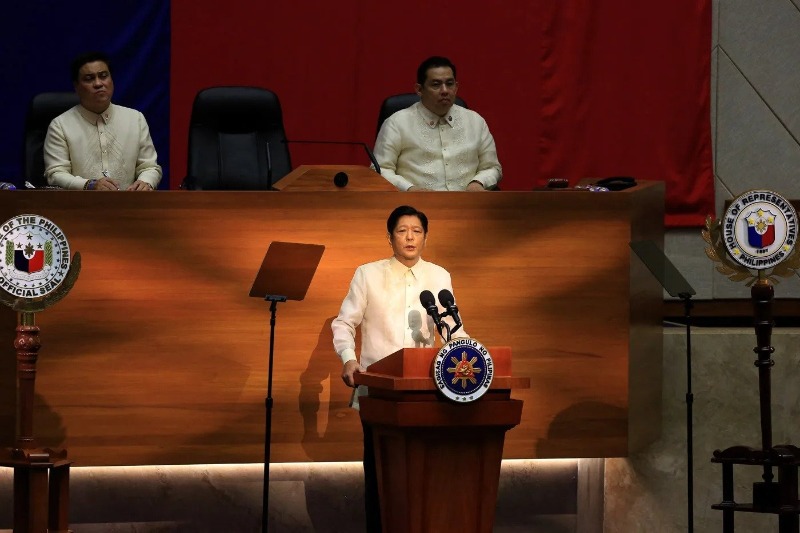 in his state of the nation address marcos jr assures no more covid 19 lockdowns
In his State of the Nation address, Marcos Jr. assures no more COVID-19 lockdowns
In a speech on Monday (July 25), Philippine President Ferdinand Marcos Jr. said his government would no longer impose COVID-19 lockdowns because it could not afford to do so.
Marcos, in his first State of the Nation speech, mentioned the continuing threat of COVID-19 in the context of health concerns. This was before the discovery of other coronavirus variations.
The cost of another lockdown is too high. Lockdowns will be abolished immediately.
Marcos argued that it was important to strike a balance between economic growth and citizens' well-being. In addition, he said, hospitals and government organizations are working together to track the spread of COVID-19 and prevent a healthcare crisis.
Along with this, the president also announced that all kids will soon be able to return to traditional classroom settings. Since the beginning of the pandemic, most Philippine schooling has taken place online.
With the current COVID-19 pandemic, he said, "the Department of Education is now preparing for its implementation in the forthcoming school year, with the highest regard for the protection of pupils."
When students and faculty return to traditional classrooms, it is everyone's responsibility to make sure they are secure.
Related Posts
He argued that the need for a more robust healthcare system was obvious even before the problems brought on by COVID-19.
He stressed the importance of bringing healthcare to the people, rather than expecting them to travel to clinics and hospitals. We have used the major specialized hospitals such as the Kidney and Transplant Institute, the Heart Centre, the Lung Centre, the Children's Hospital, and others.
For this reason, it is abundantly evident that such institutions are required not just in the nation's capital, but throughout the country. It's obvious that we need to expand healthcare facilities around the country, not only in the nation's capital.
In addition, he said, healthcare workers would be sent out to remote areas several times a week so that people wouldn't have to make the long journey into town or regional centers to get treatment.
Marcos moreover stated that he would seek to better the working circumstances of medical professionals.
Marcos pledged in his speech to reform the tax system, attract foreign investment and tourists, and increase agricultural output while decreasing the country's reliance on foreign goods.
In order to sustain the current strong growth momentum, he stressed the importance of implementing reforms that would attract tourists and investors.
He stated that the government expects to achieve a GDP growth rate of between 6.5% and 7.5% this year, adding that growth momentum is still strong despite the ongoing recovery from the COVID-19 pandemic.
To "quickly address the economic scars of the COVID-19 pandemic," the government would implement tax administration reforms to increase revenue collection, as well as refocus expenditure priorities and improve spending efficiency.
He also stressed the importance of the Philippines increasing its agricultural productivity and adapting to climate change as a key importer of rice and other commodities.
To help farmers focus on increasing productivity, he would suspend their debt payments.
He argued that the industry needs a "infusion of fresh and new blood" and that a new generation of farmers would benefit from using modern agricultural methods, and that this would free them from the burden of paying dues.
Marcos has stated that providing financial aid to farmers and fishermen will be the "hallmark" of his administration.
In addition to modernizing airports, he pledged to invest more money in public schools and hospitals, and to pay doctors and nurses more than they were previously paid.
To ensure the safety of Marcos' address before a joint session of Congress, the House of Representatives was staffed with almost 20,000 police, anti-riot contingents, and troops.
About 5,000 demonstrators marched down a major road away from Congress, calling for justice for victims of human rights abuses committed by Marcos Sr., the dictator who was overthrown in 1986, and a government aid and fuel subsidy in the face of rising prices.