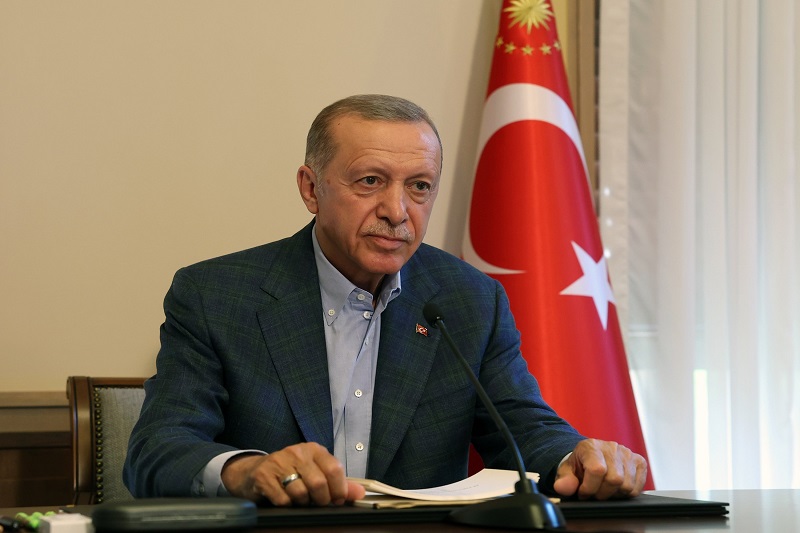 Balancing Turkey's trade & geopolitics in relations with Russia-Ukraine
Balancing Turkey's trade & geopolitics in relations with Russia-Ukraine
In a recent note, a Central Asia-Caucasus Institute political analyst Konarzewska said Turkey is caught between supporting Ukraine's territorial integrity and maintaining ties with Russia.
Turkey has supplied Kyiv with a lot of weapons, but it has also increased its trade with Russia, which the West claims support the Russian war effort. Turkey's trade with Russia is essential to its economic stability, so it won't change course.
In 2022, Turkey-Russia trade volumes increased, according to the Turkish Statistical Institute. Russia was Turkey's top trading partner, bringing in goods worth $58.85 billion, double what it did the year before. Turkish exports to Russia increased from $5.8 billion in 2021 to $9.34 billion in 2022, according to the UN COMTRADE database.
Trade figures support Turkey's economic growth and household purchasing power. The Turkish government and financial institutions are desperate to boost economic growth and combat double-digit inflation, rising living costs, and a weak currency.
The Turkish government and financial institutions have been desperate to prop up the faltering Turkish economy, which faces double-digit inflation, rising costs of living, and a weak currency, by improving household purchasing power, financial stability, and economic growth.
Turkey's role as an intermediary for Russia to circumvent Western sanctions has been questioned due to the increase in trade volumes. Turkey strongly opposes exports or trade facilitation of sanctioned goods or items that could aid Russia's war in Ukraine.
Energy trade is crucial. Russia's need to reroute energy exports away from the EU due to sanctions drove Turkey's 2022 oil, gas, and coal imports. Ankara increased its exports of Russian oil from the previous year by twofold by taking advantage of lower prices and the EU energy embargo. A proposed "gas hub" will allow Russian hydrocarbons to enter European markets at a discount. Russia's entire unsold gas stock after the Nord Stream 1&2 pipelines' destruction has been mentioned at 100bn cubic meters a year.
Keep Reading
Since Russia invaded Ukraine, Turkey has become a major importer of Russian hydrocarbons and coal. Turkey is now the third-largest consumer of Russian fossil fuels after China and Germany, according to CREA. According to CREA, Turkey has bought $14.8bn of Russian crude oil, $7.5bn of natural gas, and $3.6bn of coal since February 2022.
According to Energy Intelligence, Turkey has been purchasing unusually large quantities of cheap Russian diesel, which it uses for domestic purposes and exports to the EU, which will begin to forbid Russia-produced refined goods on February 5, 2023. Because Russian diesel is not sold in the EU, "origin swaps" are allowed.
Turkish companies have also supplied plastics and rubber to Russian firms sanctioned by the US for military armaments. They exported US-sanctioned semiconductors and electric generators, which can be used for military purposes. Turkish warehouses have received large EU and Far East shipments for Russia. Turkish cargo companies fly, ship, and rail these unregistered imports to Russia.
At least 13 Turkish companies sold various goods, including vehicles, rubber products, and plastics, worth about $18.5 million to a number of Russian companies that the US had sanctioned due to their involvement in Russia's aggression against Ukraine.
Turkish companies have sent millions of dollars of US-made electric generators, lifts, circuit boards, conveyors, truck steering wheels, and other sanctions-related equipment to Russia. In 2022, Turkey began exporting a lot of semiconductors to Russia, according to Voice of America.
To prevent Moscow from obtaining high-tech products like semiconductors, the US banned their sale to Russia in late February last year. According to one IntelliNews, loopholes and willing partners like Turkey have rendered technology sanctions on Russia ineffective.
Turkey is a haven for wealthy Russians and their money. Oligarchs, politicians, and dissidents who want to avoid Western sanctions or capital controls in their own country are included.
Putin's Russia has legitimate refugees. Many young Russians fearing military conscription or imprisonment have fled to Turkey. The country has welcomed these cash inflows and facilitated money transfers, helping Russians circumvent Western sanctions that limit access to popular bank cards and exclude certain Russian banks from the Swift system.
Russian funds have stabilized Turkey's lira, which has devalued significantly against the US dollar, and reduced its foreign trade deficit.
Turkey only supports UN-authorized sanctions against Russia because it believes joining Western sanctions would hurt the Turkish economy.
This gives Turkey the opportunity to mediate the Russo-Ukrainian conflict and profit from facilitating trade between the West and sanctioned Russia, even with goods that are prohibited.
The West has been using carrot and stick to enforce its embargo on Russia, while the Global South has been resisting and trying to find a middle ground that prioritizes their national interests. Russia supplies raw materials, energy arms, and energy technology to many developing nations.
Washington has expressed concerns to Turkish authorities and industry representatives that certain trade ties between Turkey and Russia may contribute to Moscow's military efforts in Ukraine. Still, many Global South countries consider this a European problem that is none of their concern.
Turkey's economic interests depend on trade with Russia, so it's unlikely to change course.