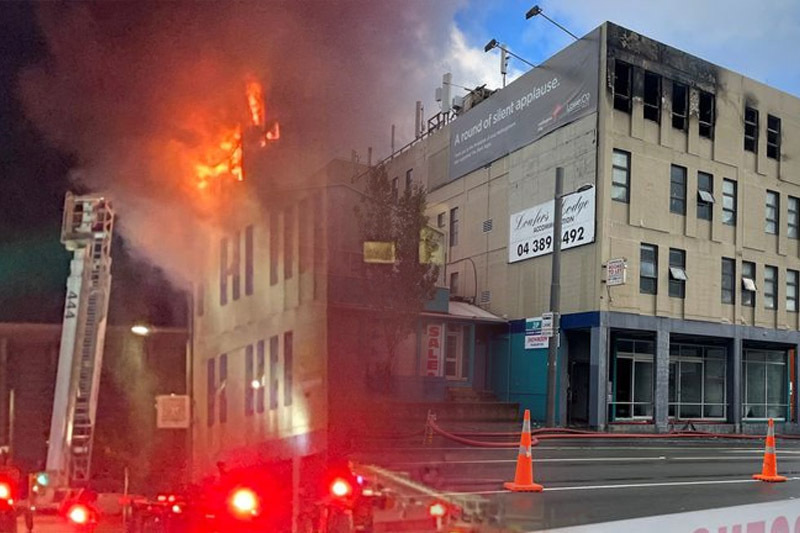 At least six dead and more missing in New Zealand hostel fire
At least six dead and more missing in New Zealand hostel fire
At least six people have lost their lives and many more remain unaccounted for following a deadly fire in the four-storey Loafers Lodge hostel in Wellington, New Zealand's Prime Minister Chris Hipkins has told local media.
Emergency services started receiving alerts just after midnight local time (12:30 GMT Monday). While dozens have already been rescued from the building, police say several more are still missing. Hipkins has raised warnings over the death toll potentially rising even further.
Police said they could not be more specific on the number of casualties until the building was accessible again. At least five people were safely evacuated from the roof of the structure, while one person was seriously injured after jumping from the third floor, local media reported.
Keep Reading
Upon arrival at the scene, firefighters found the top level of the building was burning fiercely. By 04:00, a minimum of 20 fire trucks were helping extinguish the flames. Fire and emergency district commander Nick Pyatt described the incident as the "worst nightmare" of Wellington.
According to the New Zealand Herald, Pyatt also called on locals to keep their windows closed and wear a face mask to avoid inhaling the smoke, saying the building contained asbestos. He expressed his heartfelt condolences to the bereaved families.
Calling Wellington a small close-knit community, the prime minister described the fire as "an absolute tragedy" to New Zealand's AM show. He also paid tribute to the local firefighters for putting their lives at risk to safely get people out of harm's way, according to the NZ Herald.
While the exact cause of the deadly hostel fire is still unknown, local media reports suggest the police are currently investigating whether the building was deliberately set on fire.