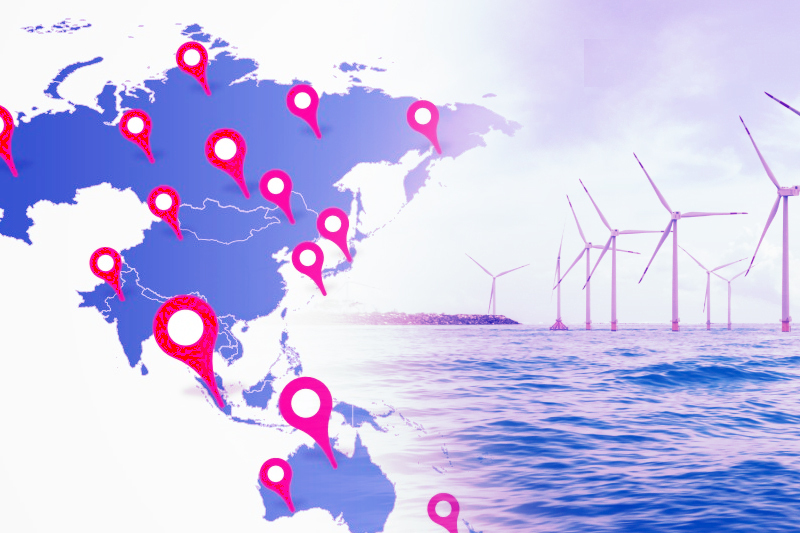 Asia Pacific emerges as a frontrunner in the race to harness wind power
Asia Pacific emerges as a frontrunner in the race to harness wind power
The winds of change are blowing strong in the energy industry, and Asia Pacific is at the forefront of harnessing wind power. With the increasing demand for renewable energy sources, wind power has emerged as a viable solution to meet this need sustainably. In recent years, Asia Pacific has made significant strides to develop its wind power capacity and establish itself as a frontrunner in the industry. From towering turbines to innovative technologies, let's take a closer look at how Asia Pacific is paving the way toward a greener future through wind power!
The rise of Asia Pacific in the wind power industry
Asia Pacific has seen a tremendous increase in wind power capacity over the last several years. This rise can be attributed to various factors, including government policies that promote renewable energy sources and advancements in wind turbine technology.
China, for example, is leading the way with the highest installed wind power capacity globally. The country's investment in clean energy has resulted in an impressive growth rate of 20% per year since 2010. Other countries such as India, Japan, and South Korea are also making significant strides toward developing their wind power capabilities.
The potential benefits of investing in wind power are numerous. For one thing, it reduces reliance on fossil fuels and thereby decreases greenhouse gas emissions that contribute to climate change. Additionally, it creates jobs and boosts economic growth while providing affordable electricity to communities.
However, there are challenges associated with harnessing wind power such as unpredictable weather patterns or issues with integrating large amounts of intermittent energy into existing grid systems. Despite these hurdles though, Asia Pacific remains committed to pushing forward its efforts towards a sustainable future through harnessing this abundant source of renewable energy.
Wind power capacity in Asia Pacific
Asia Pacific has emerged as a frontrunner in harnessing the power of wind energy. The region boasts of having some of the largest and most productive wind farms in the world, with China being the leader followed closely by India and Australia. According to recent reports, Asia's installed capacity for wind power is set to reach 633 GW by 2030.
China alone accounts for more than one-third of the total global installed wind power capacity, with a whopping 281 GW already established. India comes next on this list with an impressive 39 GW installation, while Australia follows at number five globally with over 7GW installations.
This growth can be attributed to various factors such as technological advancements, favorable government policies promoting renewable energy sources, and increasing demand for clean energy from both domestic and industrial sectors.
Apart from these figures, it's important to note that countries like Japan, the Philippines, and Vietnam are also seeing massive investments in expanding their wind power capabilities. This trend highlights how Asia-Pacific will continue leading in transforming its electricity sector by investing heavily in renewable energies over traditional fossil fuels.
Keep Reading
The benefits of wind power
Wind power has several benefits that make it an attractive alternative to traditional sources of energy. Firstly, wind power is a clean and renewable source of energy that does not produce harmful pollutants or greenhouse gases. This means that it can contribute significantly to reducing carbon emissions and combating climate change.
Secondly, wind power is cost-effective in the long run as initial investment costs are offset by low operating costs over time. Furthermore, wind turbines have a relatively long lifespan and require minimal maintenance compared to other forms of energy generation.
Thirdly, wind power can also have positive effects on local economies through job creation in the manufacturing, installation, and maintenance industries. Additionally, communities near wind farms benefit from increased tax revenue for local governments.
Unlike fossil fuels which are subject to price volatility due to political instability or market forces beyond our control; the price of generating electricity using wind is predictable over the lifetime of a turbine because there are no fuel costs involved.
These benefits demonstrate why Asia Pacific's increasing focus on harnessing more wind power will provide significant advantages both environmentally and economically.
The challenges of wind power
While wind power has numerous benefits, some challenges come with this renewable energy source. One of the main issues is intermittency, which means that wind turbines can only generate electricity when the wind is blowing at a certain speed. This means that backup sources of energy must be in place for times when the wind isn't strong enough.
Another challenge is location – to harness the full potential of wind power, turbines need to be placed in areas with high and consistent winds. However, these locations may not always coincide with where people live or power grids are located.
Furthermore, building and maintaining large-scale wind farms requires significant investment and resources. The initial cost of building a farm can be expensive, although it pays off over time as operating costs tend to be low.
While the environmental impact of using wind power is minimal compared to fossil fuels, there are still some concerns about its effects on bird populations and local ecosystems. However, research shows that these risks can be minimized by careful planning and siting of turbines.
Despite these challenges, the continued growth of Asia Pacific's wind power industry demonstrates how viable this renewable energy source truly is. As technology advances and more efficient turbines are developed along with more advanced battery storage options – we will see increased adoption rates across markets globally as well as further improvements in efficiency making clean energy even cheaper than traditional coal-fired plants over time!
The future of wind power in the Asia Pacific
The future of wind power in the Asia Pacific is looking bright as the region continues to be a global leader in renewable energy. A recent report by the International Energy Agency (IEA) stated that by 2040, wind power capacity in the Asia Pacific could triple from its current level.
One key factor driving this growth is government support and policy initiatives promoting renewable energy sources. Many countries in the region have set ambitious targets for increasing their share of renewables, including wind power. China alone accounted for almost half of all new global wind installations last year.
Another important trend contributing to the future success of wind power in the Asia Pacific is technological advancements and decreasing costs. As technology improves, turbines become more efficient and cheaper to produce, making it even more attractive for countries to invest in this clean energy source.
However, challenges remain such as grid integration and storage solutions. Governments need to work closely with industry players on developing infrastructure capable of accommodating intermittent electricity generation from renewables like wind.
Asia Pacific will continue to play a significant role in driving the global adoption of sustainable energy sources powered by the winds blowing through our skies!
Conclusion
As we have seen, Asia Pacific is emerging as a frontrunner in the race to harness wind power. With its vast potential for renewable energy sources and growing demand for electricity, the region is poised to play a leading role in the global transition towards sustainable energy.
Despite some challenges such as financing and grid integration, countries throughout the Asia Pacific are making significant strides in expanding their wind power capacity. As technology continues to improve and costs come down, we can expect even greater growth in this sector over the coming years.
Wind power has enormous potential not just for the Asia Pacific but for the world as a whole. By investing in clean energy sources like wind power, we can reduce our reliance on fossil fuels and mitigate climate change while also improving access to electricity for millions of people around the globe.