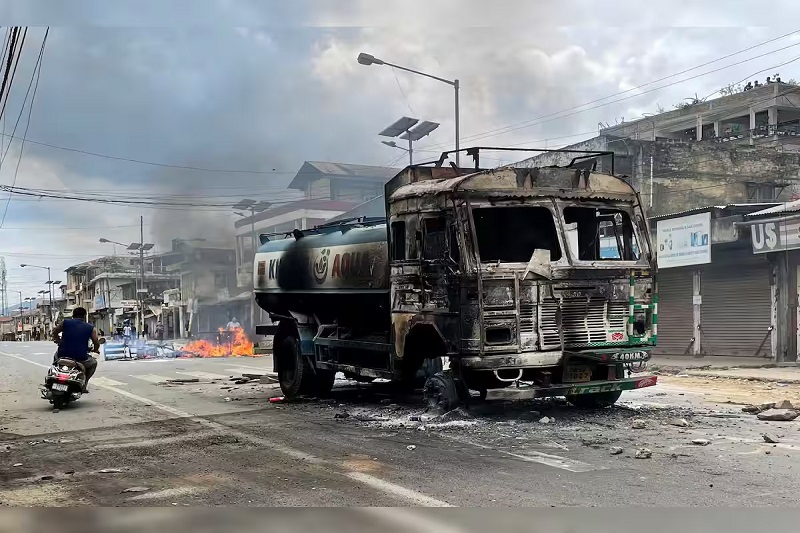 Manipur Crisis: Non-State Armed Groups and Geopolitical Implications
Manipur Crisis: Non-State Armed Groups and Geopolitical Implications
Manipur, a state in northeastern India, has a long history of political unrest and armed insurgency. More than thirty non-state armed groups from various ethnic backgrounds reside in the area, and their goals range from secession to territorial domination. Tensions in the region have increased due to the participation of these insurgent groups, particularly NSCN-IM, KYKL, PLA, and various Kuki-Chin-Zomi and Meitei-based factions. The already precarious situation has been made worse by recent events like counterinsurgency operations and armed clashes between the Indian armed forces and terrorists. The crisis has caused thousands of people to be displaced, taken many lives, and seriously jeopardised the stability and security of the region.
The history of Manipur has been characterised by battles involving the three main ethnic groups—Naga, Kuki, and Meitei—each with its armed factions attempting to impose territorial dominance or secede from India. These organisations have survived for forty years based on ethnonationalism ideals and have benefited from the militarization of society brought on by laws like the AFSPA (Armed Forces Special Powers Act). Through extortion, taxation, and illegal trade, these groups maintain a strong sense of geographic control over their regions.
Keep Reading
A Peaceful Settlement: A Distant Dream?
Due to the intricacy of the ethnic conflict in Manipur, all parties must engage in communication and find a peaceful settlement. The persistence of racial tensions, competing claims to the same resources, and conflicting historical accounts make this problematic. Peaceful resolution appears to be an improbable goal, especially considering the involvement of multiple armed organisations with disparate objectives.
Manipur and Myanmar's porous borders have allowed insurgent groups to conduct cross-border raids and form contacts with rebel groups in Myanmar. Armed groups from Manipur have found partners and backing in the ongoing civil conflict in Myanmar, which complicates the situation even more. The security and stability of the Northeast region of India are impacted by geopolitical interests, such as China's sway over Myanmar's junta government, India's Act East strategy, and significant infrastructure investments in Myanmar.
There is a substantial potential for more violence and destabilisation in Manipur and the neighbouring areas due to the proliferation of weapons and the interwoven network of non-state armed organisations across international borders. The problem is exacerbated, and rebel organisations threaten regional peace and security with ties to Myanmar to assist Manipur's armed groups and vice versa.
The Manipur problem involves an intricate web of geopolitical concerns, non-state armed groups, and ethnic disputes. A comprehensive strategy that addresses the needs of all parties involved and successfully manages the consequences of the civil conflict in Myanmar is needed to reach a peaceful conclusion. To stop more human misery and loss of life in the area, India and the world community must acknowledge the seriousness of the situation and try to find a lasting and peaceful solution. Manipur and its people can only progress towards enduring peace and development by addressing the core problems and having genuine discussions.