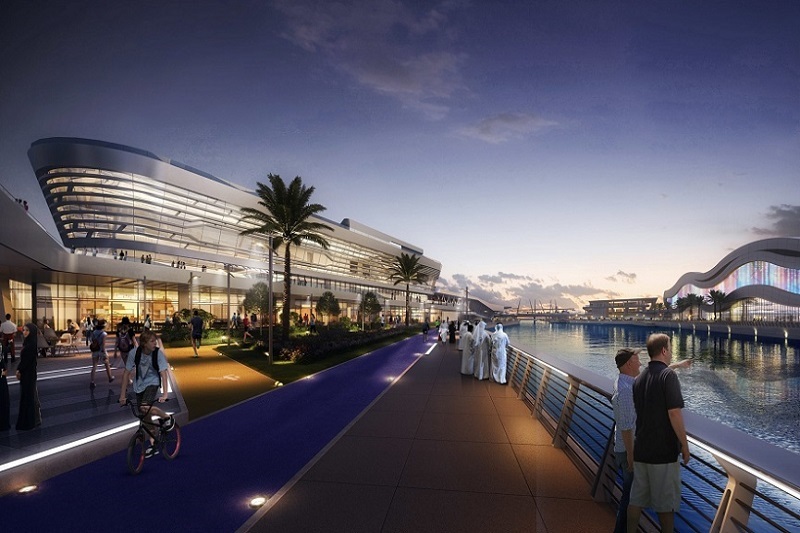 Abu Dhabi's Symbiotic Approach: Fusing Economic Prosperity and Social Development for Lasting Progress
Abu Dhabi's Symbiotic Approach: Fusing Economic Prosperity and Social Development for Lasting Progress
When we think about Abu Dhabi's economy, we immediately think about hydrocarbons. While it is true that Abu Dhabi's economy still relies heavily on hydrocarbons, the capital of the UAE has been making consistent efforts to diversify the economy by encouraging entrepreneurship. Abu Dhabi, experiencing remarkable economic growth since the 1970s, has increasingly focused on the social development agenda. Recognizing the interdependence of social and economic progress, the city has emphasized the need for both to advance harmoniously.
Social and economic progress goals go hand in hand in today's quickly changing world. Cities worldwide are starting to recognize social entrepreneurship's potential as a vital link between these two sectors. Like many other forward-thinking cities, Abu Dhabi is drawn to this idea. Despite significant gains in fostering entrepreneurship, the city recognizes that social entrepreneurialism is still in its infancy. The first such initiative by a Gulf regional body, the government of Abu Dhabi is now embarking on a trailblazing adventure by introducing its programme to support social companies. This project stands out because of its purposeful emphasis on sustainability, outcomes contracting, and impact investing, with the ultimate goal of fostering the expansion of social entrepreneurs.
What is unique about this approach?
Abu Dhabi's commitment to social entrepreneurship is not merely a passing trend; it seeks to create a sustainable ecosystem for social enterprises. The emergence of social incubators and accelerators worldwide has demonstrated their value in helping social startups build and expand their innovative solutions. Recognizing this, Abu Dhabi's government is keen to facilitate the growth of social enterprises by providing them with the necessary resources and support.
Abu Dhabi's approach is particularly noteworthy because it focuses on the sustainable development of social enterprises through impact investments. By prioritizing sustainability, the initiative ensures that social enterprises can thrive in the long term, creating lasting positive impacts on both society and the economy.
A little about Impact Investments
Despite extensive discussions on the substantial opportunities that impact investment offers to social enterprises, the practical implementation of a strategy that effectively connects demand- and supply-side participants is frequently absent. Presently, impact investment lacks sufficient consideration of demand and lacks leadership from social enterprises. Moreover, the potential of utilizing the increasing interest in public sector outcomes contracting as a catalyst for bolstering a vibrant social enterprise ecosystem receives even less attention.
Keep Reading
Lessons to Learn from Abu Dhabi's Ma'an
In this article, we will look into some important aspects of such investments and how Abu Dhabi has managed to use such investments to the best of their potentials.
Bridging the Gap
While there has been considerable discourse on the potential of impact investment for social enterprises, the practical implementation of strategies that bring together demand- and supply-side players remains lacking. This is where Abu Dhabi's initiative stands out. By actively promoting outcomes contracting and impact investment, the program aims to bridge this gap, fostering collaboration and synergy between investors and social entrepreneurs. Drawing from international experiences, such as the UK's Adebowale Commission on Social Investment, Abu Dhabi's approach seeks to be demand-informed and enterprise-led, ensuring that the investment ecosystem aligns with the needs and aspirations of social enterprises.
Ma'an – the Authority of Social Contribution, established in 2019 under the Department of Community Development in Abu Dhabi, has been entrusted with the task of addressing social challenges in the region. Their work revolves around several key areas, including ideation and acceleration, impact makers, community engagement, outreach management and partnerships, social contracting, and a social investment fund.
Under the ideation and acceleration pillar, Ma'an provides various support initiatives, including workshops and training to strengthen business and impact focus, mentorship and coaching from experts, access to a global network of partners, connections with local and global impact investors, free office space for a year, grant funding, and post-programme support through startAD, the global startup accelerator at New York University Abu Dhabi. The "Impact makers" component highlights social entrepreneurs, showcasing their ideas, innovations, and positive impacts on communities in Abu Dhabi.
Leveraging Public Sector Outcomes Contracting
In addition to impact investment, Abu Dhabi's initiative recognizes the potential of public sector outcomes contracting as a lever to support a thriving social enterprise ecosystem. By harnessing the growing interest in outcomes-based contracts, the program creates opportunities for social enterprises to collaborate with the public sector in addressing pressing social challenges. This collaboration not only provides social enterprises with a more stable and sustainable market but also allows them to deliver targeted solutions that directly impact the lives of the communities they serve. Abu Dhabi's visionary approach highlights the importance of leveraging diverse mechanisms to strengthen the social entrepreneurship landscape.
In the UAE, charitable giving is a common practice among individuals, organizations, and the government. However, these sources of capital have not traditionally been aligned with the principles of impact investing. To tap into their significant potential, a shift in mindset and practices is necessary.
Ma'an, the leading force in this endeavor, has taken steps to bridge this gap. It has developed tailored narratives that resonate within the local context. Islamic finance, which emphasizes the value of ethical and socially responsible practices, has been a key focus. Ma'an has built upon this foundation by promoting the idea of "doing good well" or "doing good better" through evidence-based impact investment. By considering the well-being of all stakeholders, broader society, and the environment, Ma'an seeks to encourage impactful financial decisions aligned with the principles of Islamic law. Through these efforts, Ma'an aims to unlock the massive potential of capital sources by fostering a greater integration of impact investing and philanthropy in the UAE.
Public sector contracting
Abu Dhabi's proactive approach to promoting social enterprises through public sector contracting is a commendable and strategic move. By incorporating social outcomes into contracting processes, the city is not only incentivizing innovation but also encouraging cross-sector collaboration and driving positive social change.
The initial experimentation with outcomes-based contracting, including the use of social impact bonds, showcases Abu Dhabi's commitment to finding effective solutions for complex social challenges. This approach aligns the interests of social enterprises and impact investors with the overarching goal of achieving tangible outcomes. By introducing social enterprises and impact investors to this model, the city is fostering familiarity and collaboration among diverse stakeholders.
Creating a Virtuous Cycle: Ma'an's Role in Fostering Social Entrepreneurship
In Abu Dhabi, a remarkable initiative is underway to nurture social entrepreneurship and drive sustainable social and economic development. Ma'an's incubation and acceleration pillar serves as a critical intermediary, fostering a virtuous cycle that benefits both social entrepreneurs and impact investors. This ecosystem not only facilitates the growth of social enterprises but also opens up opportunities for contracting with public bodies, creating a win-win situation for all stakeholders involved. Ma'an's incubation and acceleration pillar plays a pivotal role in supporting social entrepreneurs on their journey to build and expand their innovative solutions.
By providing the necessary resources, training, mentorship, and access to networks, Ma'an empowers these entrepreneurs to develop investible propositions for impact investment. This symbiotic relationship between social enterprises and impact investors creates a positive feedback loop, where the growth of one reinforces the other.
One notable aspect of Ma'an's approach is its focus on helping social enterprises become outcomes-focused. This strategic emphasis not only enhances their potential for impact investment but also aligns them with contracting opportunities from public bodies. As Abu Dhabi looks to rebalance the drivers of its social and economic prosperity, social enterprises equipped with a results-oriented mindset are well-positioned to participate in public contracting and contribute to the city's future success.
Abu Dhabi's foray into fostering social entrepreneurship is both timely and significant. By acknowledging the symbiotic relationship between social and economic development, the city is taking proactive steps to create an enabling environment for social enterprises to thrive. With a focus on sustainability, outcomes contracting, and impact investment, Abu Dhabi's initiative has the potential to unlock new avenues for collaboration and innovation. As other cities look for inspiration, Abu Dhabi's pioneering effort stands as a testament to the transformative power of social entrepreneurship in shaping a brighter and more inclusive future.