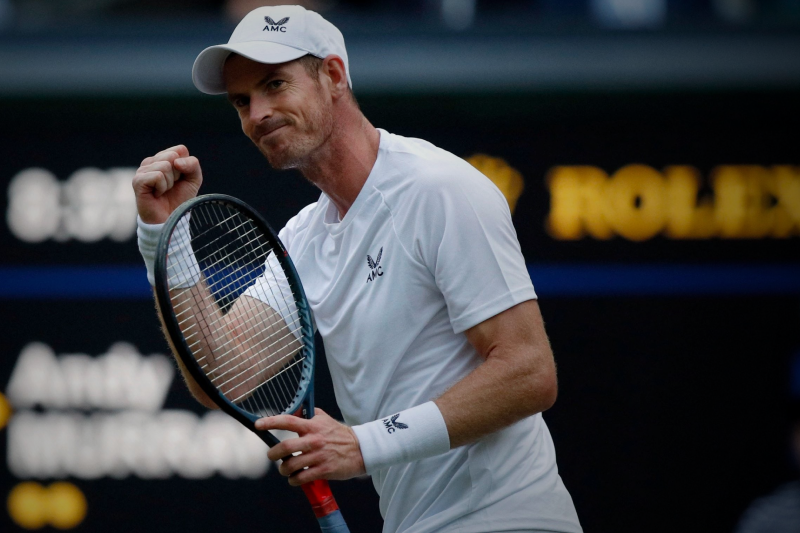 wimbledon 2022 andy murray continues winning streak in tournaments first round
Wimbledon 2022: Andy Murray continues winning streak in tournament's first round
Andy Murray, the British tennis star, has maintained his record of never losing in Wimbledon's first round as he defeated Australian player James Duckworth on Centre Court. Murray holds the Wimbledon trophy of men's singles title in 2013 and 2016.
This match was a comeback for Murray after his recent abdominal injury, and he didn't disappoint. After a slow start due to injury, it didn't take him too long to find his rhythm in strokes and beautiful quality of his movements that just shone through.
Andy Murray, the former world's number 1 who now holds 52nd rank, won the match against Duckworth defeating him with 4-6 6-3 6-2 6-4 under the floodlights on Centre Court.
The 35 year old Scottish player will now play against American John Isner, who is ranked 20th, in the second round of Wimbledon on Wednesday.
"It is amazing to be back out here again with a full crowd," said Murray, a two-time Wimbledon champion. "I'm getting on a bit now so I don't know how many opportunities I will get here. I'm pleased I managed to get through and hopefully I will get another match here on Centre in a couple of days."
An abdominal injury that Murray had suffered in the Stuttgart final early this month had halted his progress and had prevented him from playing at Queen's Club. But during practice sessions of the Wimbledon, it seemed clear that he would return just fine. "The ab felt absolutely fine today," said Murray adding that a scan this week had showed his injury had healed. "The last few days when I've been serving was fine. I went to get a scan, an ultrasound scan on it on Saturday after my practice just to see how it was progressing. It was all clear for the first time on the scans, which is really positive."
At the end of the game, it was clear 'vintage Murray' – he moved Duckworth around the court, clearly teasing and testing him, before he went in for the final kill. There was Murray's underarm serve, which his opponent "could only scoop up in the air, allowing Murray an easy kill".