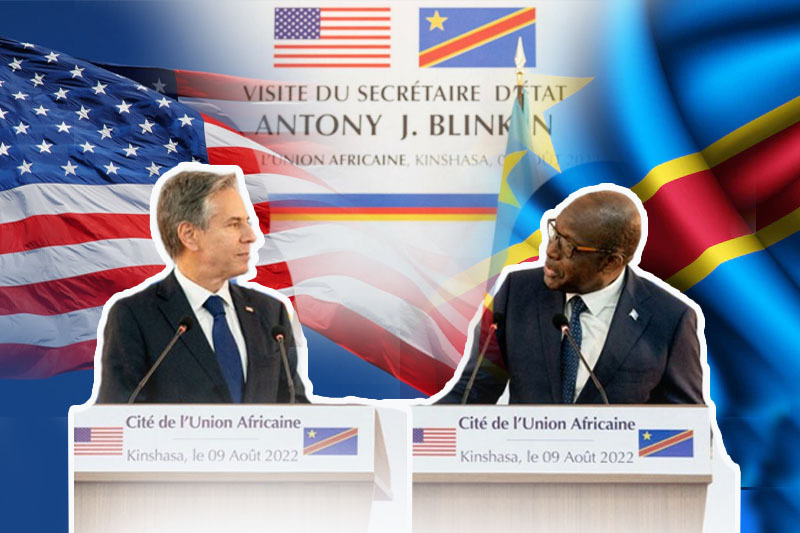 us drc pledge to work together towards rainforest protection
US & DRC pledge to work together towards rainforest protection
The US and the Democratic Republic of Congo have agreed to form a formal working group, the aim of which will be to protect the vast Congo basin rainforest and peatlands of the region that are facing rising threat posed by aggravated oil and gas exploration.
The US secretary of state Antony Blinken, who is visiting DRC, made the announcement in DRC capital city of Kinshasa on Tuesday as he expressed his concerns over the sale of dozens of oil and gas permits in the DRC. The permits included those for blocks in Virunga national park and the Cuvette Centrale tropical peatlands – which have been described as "the worst place on the planet" to drill for oil and gas by environmentalists. Along with his DRC counterpart, Christophe Lutundula, Blinken said that Washington recognized the "need for extra resources to protect the African country's ecosystems". He also stressed that the rainforest and peatlands are critical to avoid a climate disaster.
Related Posts
Blinken said the working group, that would be formed in collaboration between US and DRC, would focus on bolstering the economy of DRC and financing aid towards protection of the rainforest and peatlands. Blinken added that Kinshasa can assist in protecting the climate by ensuring that mining and fossil fuel extraction projects in the region's critical ecosystems are only approved through rigorous environmental impact assessment. It is to be noted that Kinshasa signed a landmark $500m (£410m) forest protection deal at Cop26 by Boris Johnson on behalf of a group of donor countries. Under the deal, Kinshasa has agreed to "develop rules for environmental impact assessments for extractive projects by the end of 2023".
"On climate, the Democratic Republic of Congo is vital to the future of the planet. It's as simple as that. The Congo basin rainforest absorbs more carbon than is emitted by the entire continent of Africa. It's a place of tremendous biodiversity. Its rainfall helps sustain agriculture across the region," said Blinken, who is on a tour of sub-Saharan Africa.
"We agreed to work together to establish a formal working group to help Congolese achieve a balanced approach to responsible development of the country's resources that contributes to Congo's economic growth and to generating jobs. By conserving irreplaceable forests and other ecosystems and by undertaking development projects only after carrying out rigorous environmental impact assessments, the DRC can act on behalf of all the world's people to protect our shared home," he added.