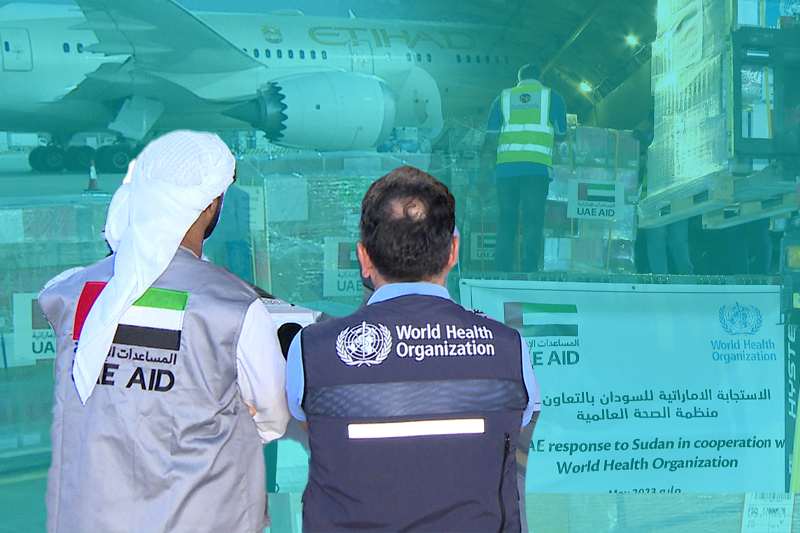 UAE, WHO deliver 30 tonnes of critical medical aid to Sudan
UAE, WHO deliver 30 tonnes of critical medical aid to Sudan
The United Arab Emirates (UAE) and the World Health Organisation (WHO) delivered 30 tonnes of critical medical supplies to conflict-stricken Sudan early Friday.
A plane carrying essential drugs and supplies for injury treatment and emergency surgeries landed at Port Sudan Airport in the morning. Valued at $444,000, the shipment is the first the global health agency has been able to deliver by air to Sudan since April 15 when deadly clashes between the regular army and a paramilitary force erupted.
The WHO had delivered supplies to health facilities prior to the escalation of the conflict. But these got exhausted after just a few days owing to the increasing number of victims.
The recent delivery of medical aid by air comes as part of the Emirates' relief efforts in support of the people in Sudan and underscores its deep relations with the African country. The relief also highlights the UAE's commitment to assisting others during emergencies.
Keep Reading
The UAE is pursuing a neutral role in the Sudan conflict and has been constantly monitoring the situation there since the beginning of the violent clashes. In addition to delivering urgent relief supplies to the conflict-ravaged country and ensuring support for the Sudanese stranded in Abu Dhabi, the Emirates has also called on all parties involved to engage in peaceful negotiations.
It is particularly focused on providing for the groups most affected by the ongoing conflict, such as the sick, the elderly, children, and women, said Reem bint Ibrahim Al Hashemy, Minister of State for International Cooperation.
The critical health supplies delivered Friday morning include enough essential medicines and emergency surgical supplies to immediately reach 165,000 people who are in urgent need of humanitarian assistance. Health facilities across Sudan have raised concerns over depleting supplies and national medical stores not being accessible anymore due to the security situation.
The WHO also has another 30 metric tonnes of medical supplies for malaria and non-communicable ailments like hypertension and diabetes.
These and more than 20,000 blood bags are currently being readied within the WHO global logistics hub in the International Humanitarian City.
The WHO is on the lookout for ways to deliver these supplies to Sudan as swiftly and safely as possible in collaboration with the Sudanese Ministry of Health.