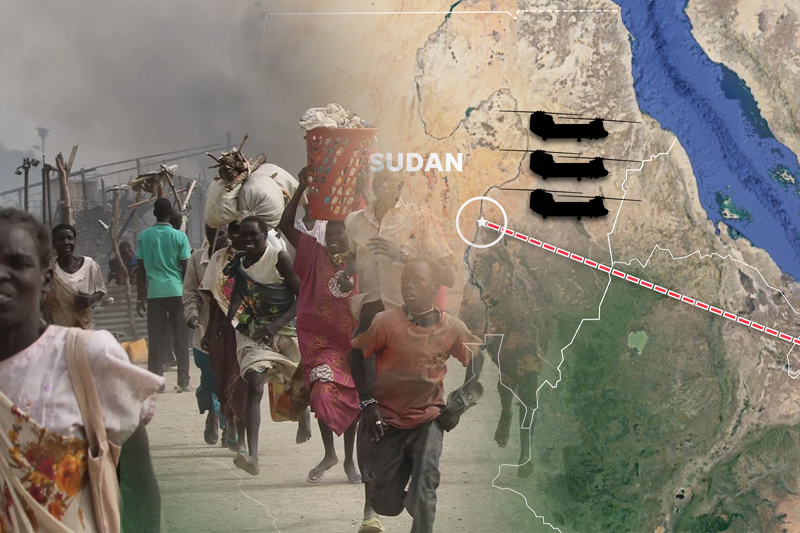 Sudan conflict: Building democracy amid the fighting
Sudan conflict: Building democracy amid the fighting
As the violence continues, many countries have pledged to help Sudan and the Sudanese people. Several countries have evacuated their citizens from Sudan. The United Arab Emirates (UAE) helped people amid the crisis in Sudan. The UAE authorities evacuated its citizens and people of other nationalities from Sudan by air.
The Ministry of Foreign Affairs and International Co-operation of the UAE said it prioritised the safety and security of the most vulnerable groups in Sudan. The UAE evacuated women, children, old people, the sick and people with disabilities, from Sudan, as part of the humanitarian operation.
The United States, United Kingdom, France, Germany, Canada, Italy, Spain, Switzerland, Denmark, Sudan, Finland, Norway, Poland, Turkey, Greece, Japan and India also evacuated their citizens from Sudan.
"Could have died any moment": Family rescued from Sudan shares their experiences
Indian citizens who arrived from Sudan shared their experiences. Citizens said that they "could have died any moment" in Sudan. They recalled that many houses were destroyed by bombs. They were evacuated from conflict-torn Sudan under Operation Kaveri by the Indian government.
An Indian citizen reportedly said, "The attack began on April 15. We stayed there till April 24. Had we stayed there for one or two more days, we would have lost our lives."
Keep Reading
Support from the communities
The US government personnel were evacuated from Sudan after the ceasefire. The Kingdom of
Saudi Arabia also evacuated its citizens after a week of intense fighting between the two rivals. Kuwait and the UAE thanked Saudi Arabia for evacuating their citizens from Sudan amid the crisis.
Recently, the two rivals agreed to the extension of the truce after intensive diplomatic efforts by the UAE, the US, United Nations, Saudi Arabia and the United Kingdom.
Earlier, the United States brokered the ceasefire, which helped people flee the war-torn country. Antony Blinken, United States Secretary of State, and African Union Commission chairperson Moussa Faki Mahamat also held a discussion on the current situation in Sudan. They said that they would also create a sustainable end to the fighting.
The fighting between Sudan's Armed Forces and the Rapid Support Forces (RSF) paramilitary group started on April 15 in Khartoum, the capital of Sudan. Since then, over 450 people have been killed and more than 4,000 people have been injured in Sudan.
General Abdel Fattah Burhan, head of the armed forces of Sudan, and General Mohammed Hamdan Dagalo, the leader of RSF are fighting for control of Sudan.
On Thursday, the Sudanese army and the paramilitary Rapid Support Forces agreed to extend their ceasefire for the next 72 hours. However, fighting was still reported in the Sudanese capital.