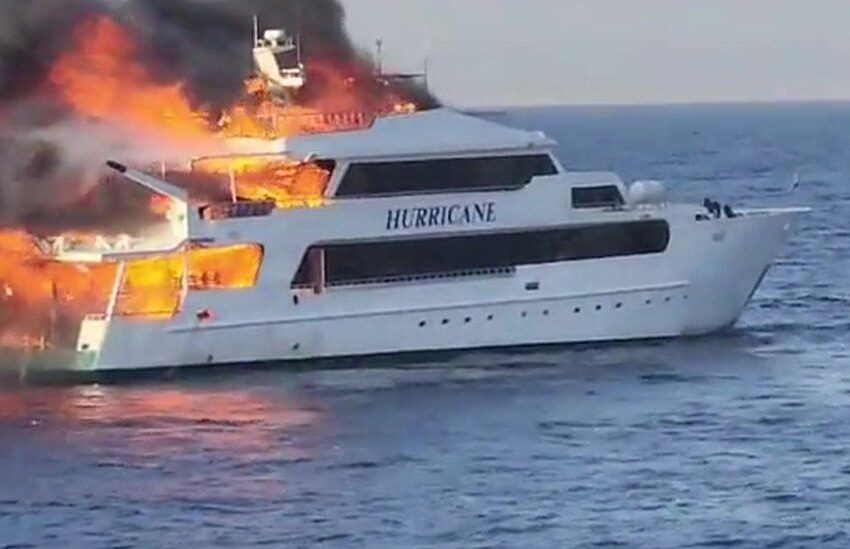 Search underway for three Brits missing after Egypt boat fire
Search underway for three Brits missing after Egypt boat fire
A dive boat, called Hurricane, caught fire on Sunday off the coast of Marsa Alam on the Egyptian Red Sea. While three British tourists on board are still missing, 26 other passengers, including 12 Britons, were safely rescued from the boat, authorities informed.
The boat left Port Ghalib on June 6 and was scheduled to return on Sunday. It had been on a dive cruise. The local authority, the Red Sea Governorate, said initial examinations suggested an electrical short circuit in the engine room for the flames.
The fire was reported around 6:30 local time. Tornado Marine Fleet, the boat's operator, said 15 Britons had boarded the boat along with 12 crew members and a couple of guides – a different number to that provided earlier by the local authority.
Keep Reading
All of the passengers already rescued were said to be in good health. The Hurricane is one of a number of boats currently operated by the Tornado Marine Fleet. A spokesperson said the fire started while the crew members were doing the diving briefing at Elphinstone Reef.
It's a popular diving destination known for its vast wealth of marine life including sharks and corals. In fact, the Red Sea is one of the world's most popular resorts for diving trips. But the recent incident could be really bad news for the tourism industry there.
Scuba Travel, which chartered the dive boat, said the people on board were on a seven-day tour and the company was working with specialist advisers and the local authorities. A spokesperson stressed, "our first priority is the safety of our guests."