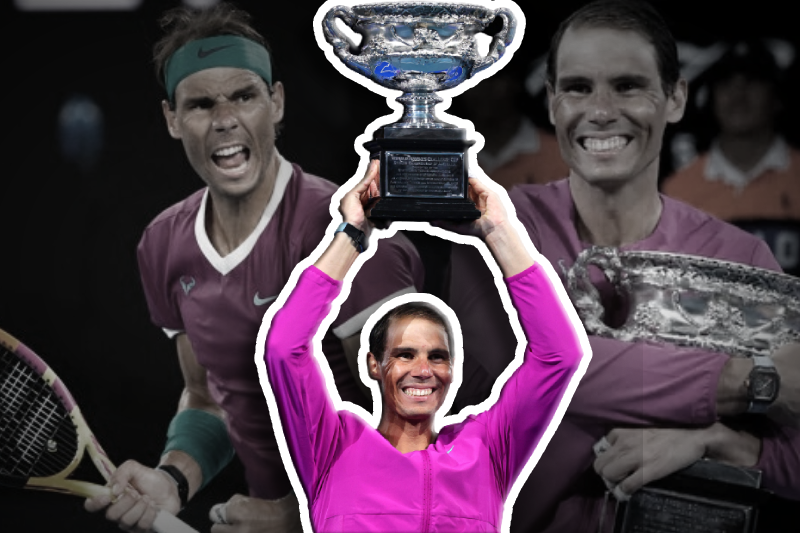 australian open 2022 rafael nadal lifts title makes history winning 21st grand slam title
Australian Open 2022 | Rafael Nadal lifts title; makes history winning 21st Grand Slam title
Rafael Nadal beat Daniil Medvedev 2-6,6-7,6-4,6-4,7-5 in a five-set thriller in the Australian Open final. Nadal lifted his second Australian Open title on Sunday.
Nadal also became the first man to win his 21st Grand Slam title after beating Medvedev. During the finals, Nadal looked inconsistent, Medvedev looked strong on his serves and at the baseline. They both gave neck-to-neck competition during the final match. However, Nadal defeated him in the final rounds.
Medvedev broke Nadal in Games 5 and 7 and eventually bagged the first set 6-2 in 42 minutes. However, the start to the second set was a better one for Nadal because he won a breakpoint in Game 4. Reportedly, with his latest victory, Nadal also becomes just the fourth man in history to win all four of the sport's major titles at least twice.
Related Posts
Nadal claimed that winning the Australian Open title was one of the most emotional moments of his career. It was Nadal's second title triumph at Melbourne Park after he won in 2009. Nadal holds a 4-1 lead over Medvedev in their five matches to date.
Rafael Nadal
Before the match, Nadal was tied with Roger Federer and Novak Djokovic on the all-time titles list in men's singles. Nadal came out on top in the physical war of attrition. He moved ahead of era rivals Novak Djokovic and Roger Federer on the all-time list of men's major winners. It was the second-longest Australian Open final after Novak Djokovic beat Nadal in five sets in 5 hours and 53 minutes in 2012.
Nadal caught the Covid-19 virus in December. After winning the match, he said, "Being honest, one month ago, I did not know if I will be able to be back on the tour and play tennis again."