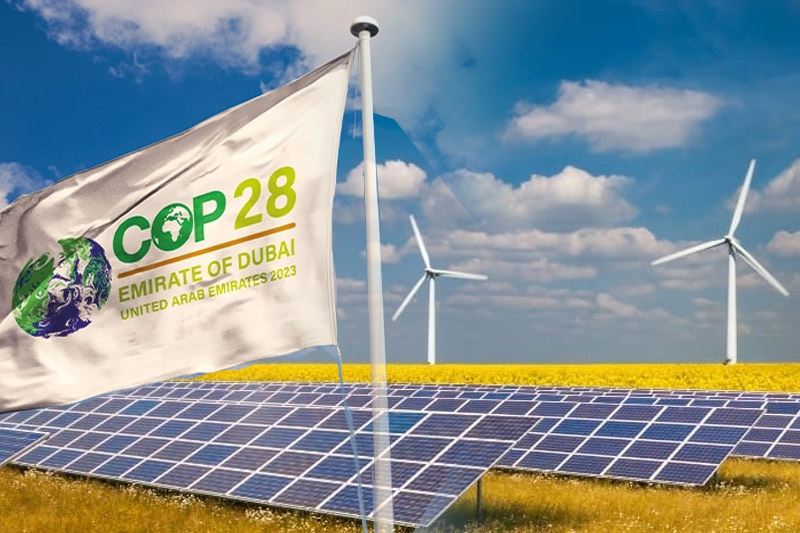 All Eyes on UAE and COP28: Renewable energy must triple by 2030 to meet climate targets
All Eyes on UAE and COP28: Renewable energy must triple by 2030 to meet climate targets
If the global community is to meet its net-zero goals, it must triple renewable energy capacity by the end of the decade.
That's the genesis behind the new partnership between Masdar – UAE's clean energy powerhouse doing business globally – and the International Renewable Energy Agency (IRENA).
The Emirates is all set to host the upcoming COP28 climate summit in Dubai this November, propelling the two organisations to build a practical roadmap. The goal is to considerably expand the solar, geothermal, hydropower, wind, and battery storage foundation.
COP28 will emphasise the so-called 'global stocktake', which takes stock of national actions and assesses the collective progress in order to ensure countries pay heed to their promises.
In a press release, COP28 President-Designate, Chairman of Masdar and Minister of Industry and Advanced Technology, Dr Sultan bin Ahmed Al Jaber said the global community must triple global renewable energy capacity by 2030 and double it again by the next ten years.
Keep Reading
In the 17 years since Masdar's founding in 2006, he stressed the cost of a kilowatt hour of solar energy has dropped to under 2 cents, and that the world must put this pioneering spirit of innovation to better use as soon as possible.
The threat is real. The landmark 2015 Paris Agreement aims to keep temperature rises to no more than 1.5 degrees Celsius by 2050 compared to pre-industrial levels, in order to effectively mitigate floods, droughts, food and water shortages, and other natural disasters.
A major highlight of COP27 in Sharm El-Sheikh, Egypt, was a loss-and-damage fund, which provides support to less developed nations to adapt and mitigate climate events. But decisions still need to be made on what countries get compensated and who contributes.
The world has already started stepping up, quite evidently. The globe added a record 300 gigawatts of renewables in 2022. According to IRENA, green energy now makes up 40% of the total installed capacity globally.
But the progress isn't enough. The energy transition isn't yet on track entirely – which is why the UAE, ahead of the climate conference in November, is elevating the renewable energy cause.