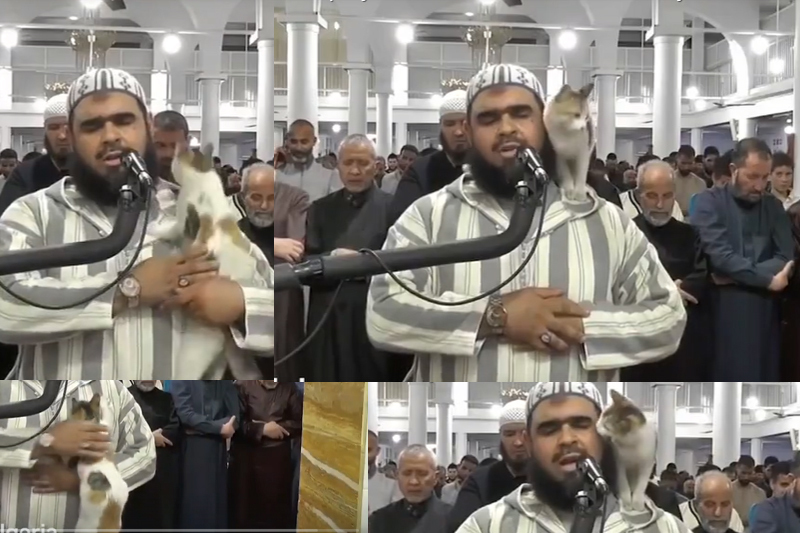 A cat joins a Ramadan prayer in Algeria
A cat joins a Ramadan prayer in Algeria
The holy month of Ramadan is important for Muslims across the world. During the holy month, Muslims observe a daily fast from dawn to sunset, cite Ramadan prayers, and engage in acts of charity and kindness.
In an adorable incident in Algeria, a cat jumped on an imam, who was leading a Ramadan prayer in Bordj Bou Arreridj, the capital city of Bordj Bou Arréridj Province, Algeria.
Imam Walid Mehsas from Bordj Bou Arreridj was praying Taraweeh, a voluntary prayer performed every single night during the sacred month of Ramadan. Suddenly, the adorable cat jumped on him and climbed on his shoulders. The cat was seen participating in Ramadan Prayer. The cat also tried to kiss his face. The imam carried on with his prayer with his eyes closed. Subsequently, the cat hops off his shoulder and starts wandering around the Mosque.
Keep Reading
The wholesome clip of the incident has gone viral on social media. The video was posted on the Official Page of Sheikh Walid Mehsas on Facebook. The video garnered over 46,000 likes and 10,000 shares.
Sheikh Walid Mehsas wrote on Facebook, "Glory be to God. Even animals fear the words of God. Watch a cat climb over the Imam. And he is reading the Quran in Taraweeh prayer." A social media user commented on the post, "That is so beautiful, it brought tears to my eyes!" Another user wrote, "As if the cat wanted to thank you for reciting the Noble Qur'an in a voice that pleases his ears, may God bless you, our Sheikh." Another person said, "Both are passionate and kind-hearted. SubhanAllah!"
Ramadan started in Algeria on 23 March 2023. The Eid al-Fitr festival is expected to occur in Algeria on 20 April 2023. Algeria is a North African country. The vast majority of citizens in Algeria are Sunni Muslims.